See an immediate difference – When you plump up thin lips with our long lasting thin lips fillers
"Over half ( 59 per cent) of 51,000 respondents in the UK said they viewed procedures like lip fillers as comparable to getting a haircut or manicure". ( Snapchat survey).
Non surgical, cosmetic lip enhancement is one of the most popular beauty treatments used by an increasing number of woman of all ages. Younger women with thin lips can often be self-conscious about their facial appearance. Sometimes thin lips can lack aesthetic balance and look asymmetrical. For other women, the production of collagen and elastin fibres – which gives lips their firm, plump shape and appearance – reduces over time.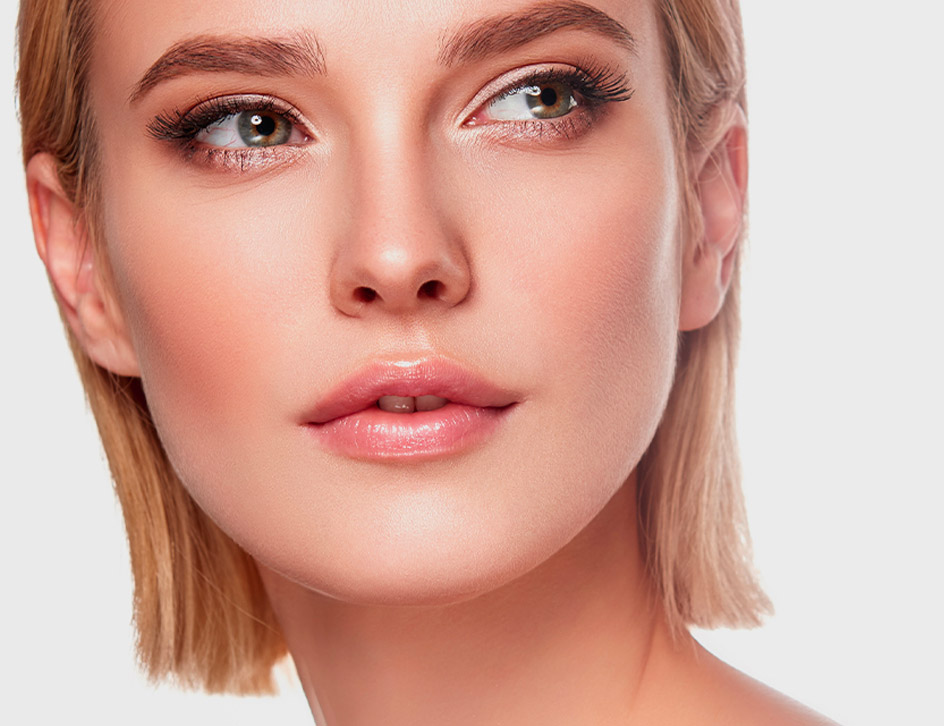 Thin lips caused by aging
Reduced collagen production actually starts from the age of 20 – decreasing by 1 per cent each year. Between the ages of 30-40, factors such as sun damage, gravity, genetics and smoking can all lead to thin lips as well as an altered, facial appearance. Levels of collagen production will have considerably reduced by our 40s, causing previous collagen fibres to more quickly and easily break down, and lose their elasticity. Muscles around the mouth also weaken, often leading to thinner looking lips, lines and wrinkles. The structure of our lips and surrounding areas of the mouth do alter over time as part of the natural aging process. Dermal fillers injected into the lips, and the areas around the lips, help woman of any age achieve younger, natural looking lips.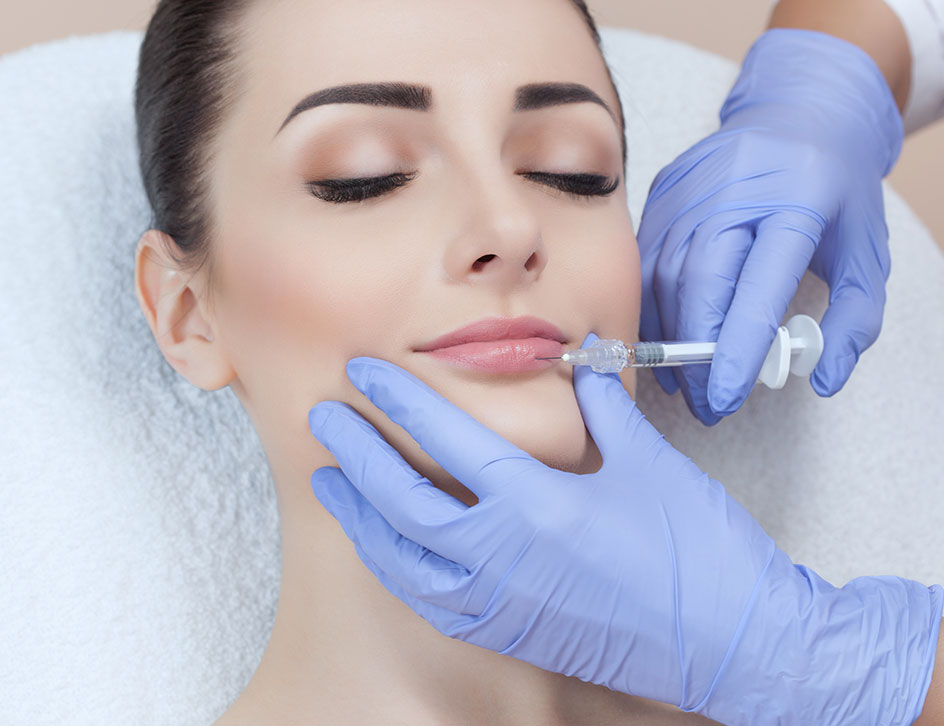 What are dermal lip fillers?
Lip fillers are a lip augmentation solution. They combine non-invasive plastic surgery and cosmetic aesthetics in one procedure. Injectable and non-surgical, a lip filler is designed to add volume, definition and support to thin lips. Dermal fillers are made of hyaluronic acid (HA). This is a clear, gel-like substance found naturally in some fluids and tissues in the body. It's function is to stimulate the skin to produce more collagen – the main structural protein used to make connective tissues. Hyaluronic acid also contains sugar-based molecules with highly effective moisturising and hydrating properties. HA dermal fillers gradually dissolve over time.
Lip fillers can be used to:
Enhance the surrounding edge of the lips
Improve volume in the lips
Create balance in the lips
Lift the corners of the mouth
A quick search online shows that there are several hyaluronic acid fillers which may be preferred for use, including Restylane and Juvederm. Some also contain a local anaesthetic called lidocaine. The fillers are injected in the same manner and deliver similar results.
Benefits of using hyaluronic acid lip fillers:
Control over the amount of filler injected
Also enables greater control over how much lip volume is created and avoids the risk of excessive unnatural plumping.
Control over treatment progress
Filler injections can be given gradually over a course of subsequent appointments until the desired results are achieved
Lumps or bumps can dissolve easily
Any lumps and bumps created by movement of the lips can be dissolved easily. An eraser enzyme called hyaluronidase can be injected to break down the filler and speed up the rate at which they dissolve. As with the original injection, the process lasts only a few seconds and the results are instant, but it could take a few days for the filler and swelling to reduce completely.
Less bruising
There may be less bruising and swelling compared to other types of dermal fillers.
Reasonably long lasting results
The results are reasonably long-lasting – between 9 to 12 months.
Allergic reaction unlikely
Hyaluronic acid fillers are made from substances similar to those found in the body and are unlikely to cause an allergic reaction.
Muscle relaxers
Treatment for thin lips may also involve the use of dermal fillers and muscle relaxers. Both can be injected into the lips and the areas around the lips to enhance their shape or size. Injecting a muscle relaxer slackens the edge of the lip muscle to soften lip lines, reduce the amount of gum showing or give the lips a slightly fuller appearance. A muscle relaxer is normally an injection of a small amount of neurotoxin, typically Botox, in cosmetic procedures. Injecting Botox can be a helpful treatment for those with thin lips, but without adding volume. The results and aesthetic benefits of lip injections, which use dermal fillers are instantly noticeable, and immediately visible after lip augmentation treatment, with no downtime needed.
Consultation before lip filler treatment
Each patient is different, each with their own goals and expectations of lip filler treatment. Before deciding to go ahead with lip augmentation it is essential to book a consultation with a plastic surgeon, cosmetic practitioner or doctor at their practice. While the injection procedure for lip filler treatment does not involve surgery, an experienced plastic surgeon will examine your facial anatomy, and from every angle. They will explain exactly the treatment process, what you should realistically expect, and answer all your questions and concerns. During your consultation and assessment, both you and your practitioner will create a personalised plan which is designed to help you realistically achieve your desired look. A full explanation of how the process works a will provide the necessary information you need to make your own decision. It's important that an injection of dermal filler should be controlled, and to always aim for a natural looking appearance.
Give balance and create the best look for you
Lip filler injections are performed by highly experienced and skilled medical practitioners whose primary goal is to deliver natural looking results. Patients can sometimes be concerned about the potential risks of the so-called, 'Trout pout'. This tends to occur when too much dermal filler is injected into the upper lip border. At the plastic surgeon clinic, your dermatologist or doctor will always work with you to enhance your appearance. Their aim is to create the best look for you – one that naturally fits your facial anatomy. Whether that goal is to give balance and plump up thin lips, or to restore lost volume and enhance facial appearance. Sometimes, the immediate benefits of a hypernatural look are often preferred by patients who frequently ask their plastic surgery doctors to carry out a lip filler procedure.
Lip fillers during pregnancy
It is recommended you should wait until after giving birth, and breastfeeding has finished. While dermal fillers are not considered likely to affect your baby, no medical studies have been performed on pregnant women. The body undergoes hormonal changes during pregnancy and breastfeeding, and it cannot be predicted how your skin will react to dermal filler. It is always strongly advised to speak with your GP | doctor who will be able to offer specific advice based on your own personal and medical history. Caution is always recommended during pregnancy if considering cosmetic procedures such as lip augmentation.
How do I prepare for lip filler treatment?
Before your appointment for thin lip treatment it is important to avoid blood thinners, which increases the risk of bruising and bleeding during the procedure. Ten days prior to treatment, it is strongly advised to stop taking painkillers, e.g. aspirin or ibuprofen, fish oil, vitamin E and refrain from drinking alcohol, which also thins the blood. Any patient with a history of cold sores should take their medication for preventing the condition two days before treatment to avoid a potential flare-up. Just before the injection, a topical or local numbing agent may be a given to ease any potential discomfort. Sometimes, nerve block injections, which are similar to the anaesthetic injections given at the dentist to numb the mouth area – may be given before the treatment to numb the lips completely.  Holding a cold compress or ice to the lips before injections also helps to numb the area and help with any potential bruising and swelling. The practitioner then carefully marks the areas of the lips for treatment before injecting the filler into the lips, using very fine needles.
What should I expect after lip filler treatment?
The entire procedure takes between 20 -60 minutes and you should immediately see noticeable results. In the first 24 hours after receiving dermal treatment for thin lips it's likely they will feel a little swollen and/or red. It's recommended to apply an ice pack or cool compress, and to drink plenty of water. It's also advised to also avoid types of activities that adds to any swelling or increases blood flow to the face, such as a massage or facial. Full enhanced results are seen around 5-7 days after treatment once any potential minor side effects, such as a light swelling, have disappeared. In some cases, a patient may experience an allergic reaction, such as redness, swelling or itching. More serious side effects are severe and prolonged swelling or bruising lasting one week to 10 days, or lumps and irregularities such as parts of the lips are of a different size. In more rare instances, there could be ulceration, scarring or stiffening, and possibly, infection. A doctor should immediately be called if extreme swelling occurs or a fever develops. It's important to emphasise that a hyaluronic acid filler does dissolve after several months. However, the injection indirectly stimulates collagen production which slightly enhances the size of your lips following treatment.
How long does lip filler treatment last?
A single injection of lip filler is normally the correct and appropriate amount for most people to start their lip filler treatments and maintain a natural appearance. It can often be recommended to firstly inject with half a syringe, and receive a second half a week or two later. The aim is to gradually plump up the lips rather than overdo the volume amount at the first treatment. Patients receiving lip filler treatment for the first time may be tempted to take two syringes. This may be too much and could risk compromising the goal of achieving a sustained natural appearance. A subtle approach to create fuller yet natural looking lips is always recommended.
Top up filler treatments
Subsequent top up treatments can be planned to build volume and structure. Each treatment is assessed and personalised to achieve lip plumpness that is best at each step of the way. Lip enhancement treatments can last 9 – 12 months but patients can choose to obtain repeat lip filler treatments every six months if needed. Use of quality, premium-grade lip fillers encourages the skin to produce more collagen over time, to give the lips plumpness and volume in a natural-looking way. Your practitioner can advise on requesting repeat treatments and appointment bookings.
Get in touch today to discuss treatment options for this condition, click here to send us an email.
I was very nervous about getting lip fillers for years, but I got recommended to Mr Golchin and I cannot recommend him enough! He made me feel at ease about the treatment and gave me exactly what I wanted! It was painfree and my results are amazing! – Sarah
Sarah
I have been attending Mr. Golchin at his clinic in Dublin for Botox & Fillers for quite a few years, with great results. I am never concerned about trying fillers in any new areas of my face or trying any new treatments suggested, as I have complete confidence in Mr. Golchin and his team. It's very important to me to achieve a natural result while still noticing an obvious improvement and I am never disappointed. – Michelle
Michelle
I contemplated rhinoplasty for a number of years and after extensive research I finally decided to go ahead with it in August 2017. To say it was a decision not taken lightly would be an understatement. I wanted the best results and the best surgeon and I can honestly say I got both. Mr Kambiz Golchin is a true professional and perfectionist and it is clear he takes great pride in his work. Mr Golchin established exactly what I wanted and delivered, surpassing my expectations. Bex
Bex
I had decided many months ago to get rhinoplasty and had since visited a number of the top surgeons in London, after being dissatisfied a friend referred Mr Golchin. From start to finish, including my pre operative care to my end result I could not be happier and would highly recommend Mr Golchin as a wonderful surgeon who has changed my life and I could not be happier with my new nose. – cmbrowne
C Browne