Mr Kambiz Golchin is an experienced, highly trained ENT Consultant & Facial Plastic Surgeon whose pioneering techniques have gained international acclaim from his patients, his peers, and the media.
Based in the prestigious location of Knightsbridge, London, Mr Kambiz Golchin operates from the Rita Rakus clinic on Hans Road.  Some of the key surgical treatments offered include Rhinoplasty, CO2 Laser Resurfacing & SVF Stem Cell Fat Transfer.  There is also a range of non-surgical treatments available including Anti-wrinkle injections (botox), Dermal Fillers and PRP.
Over the past 12 years, plastic surgeon specialist Mr Kambiz Golchin has been given numerous accolades including 'Best For Botox & Fillers' by TATLER UK and is KOL for Allergan and a number of other aesthetic companies. He is also considered an expert in the industry by many Doctors/Nurses throughout Ireland & the UK who call on Mr Golchin for his expertise and assistance with their own patients whose treatments need to be corrected.
M Med Sci, FRCS (Eng), FRCS(ORL-HNS)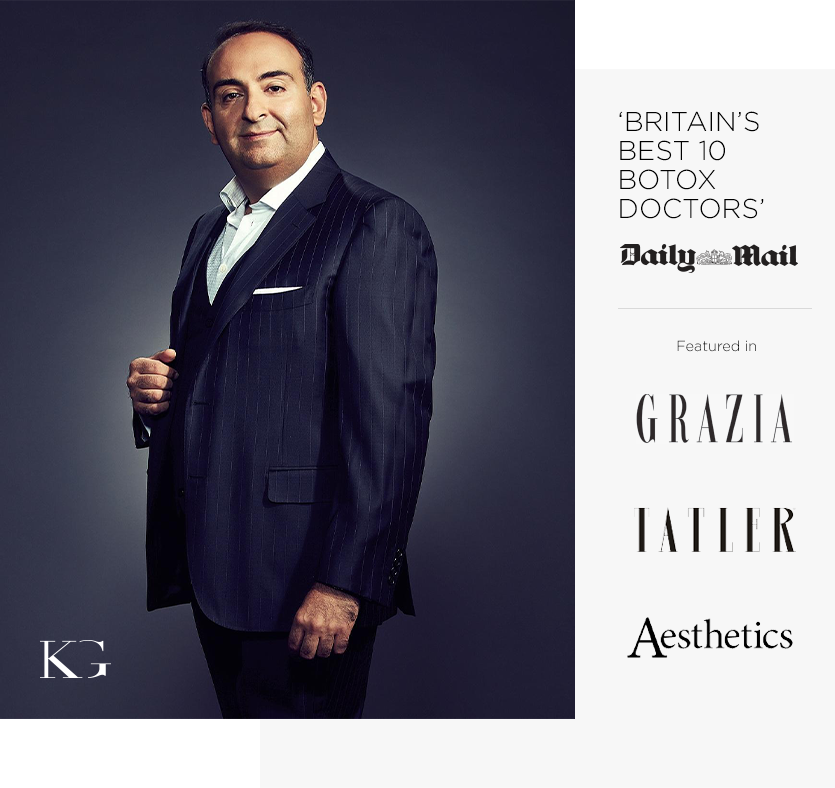 I was very nervous about getting lip fillers for years, but I got recommended to Mr Golchin and I cannot recommend him enough! He made me feel at ease about the treatment and gave me exactly what I wanted! It was painfree and my results are amazing! – Sarah
Sarah
I have been attending Mr. Golchin at his clinic in Dublin for Botox & Fillers for quite a few years, with great results. I am never concerned about trying fillers in any new areas of my face or trying any new treatments suggested, as I have complete confidence in Mr. Golchin and his team. It's very important to me to achieve a natural result while still noticing an obvious improvement and I am never disappointed. – Michelle
Michelle
I contemplated rhinoplasty for a number of years and after extensive research I finally decided to go ahead with it in August 2017. To say it was a decision not taken lightly would be an understatement. I wanted the best results and the best surgeon and I can honestly say I got both. Mr Kambiz Golchin is a true professional and perfectionist and it is clear he takes great pride in his work. Mr Golchin established exactly what I wanted and delivered, surpassing my expectations. Bex
Bex
I had decided many months ago to get rhinoplasty and had since visited a number of the top surgeons in London, after being dissatisfied a friend referred Mr Golchin. From start to finish, including my pre operative care to my end result I could not be happier and would highly recommend Mr Golchin as a wonderful surgeon who has changed my life and I could not be happier with my new nose. – cmbrowne
C Browne
Mr Kambiz Golchin is a leading cosmetic surgeon and one of the most renowned facial plastic surgeons in London, having received a number of awards in the past twelve years. As a specialist in cosmetic procedures, Mr Golchin received the "Best for Botox and Fillers" accolade and is a Key Opinion Leader for several aesthetic medicine companies.
Mr Golchin specialises in face and neck surgery, and his work has been praised as natural-looking and complications-free. As the number of satisfied patients shows, Mr Golchin is not someone who merely operates and leaves. On the contrary, he accompanies the patients on their journey, and he supports them every step of the way. Once you have made an appointment in Dr Rita Rakus, a leading London facial plastic surgery clinic, Mr Golchin will carry out consultations, the desired procedures, and post-surgical check-ups. Some of the procedures you can expect Mr Golchin to perform are CO2 Laser Resurfacing, Rhinoplasty, and SVF Stem Cell Fat Transfer.
Also, as a leading cosmetic surgeon in London, Mr Golchin performs non-surgical treatments, such as Dermal Fillers, PRP, and anti-wrinkle injections (botox). PRP (short for platelet-rich plasma) is often used for regeneration and skin nourishment, hair growth, collagen stimulation, and new tissue remodelling. What is more, Mr Golchin has a unique approach to PRP therapy with every patient, making sure that your treatment is suitable to you as an individual. That way, you can combine hair growth and rejuvenation with enhancive treatments such as CO2 Active FX Laser.
Mr Golchin's specialisation in plastic surgery of the face and neck has allowed him to perfect his skills and work on utilising innovative technologies to achieve a natural post-surgery look.
After an appointment with Mr Golchin, only your friends and family will be able to tell that you had undergone a surgical procedure. Thanks to his experience that spans over a few decades, Mr Golchin can make microsurgical incisions and changes, making sure that everything looks natural. After the procedure, he also takes care of post-surgery appointments and makes sure you are satisfied with your new appearance.
Although all surgical procedures come with potential risks, Mr Golchin has a team of highly-educated professional plastic surgeons and doctors. Together, they will make sure that no side effects occur and will take care of your post-treatment needs. After you have undergone the procedure, you will be able to ring the clinic at any time to ask for advice, if necessary.
Numbered among "Britain's Best 10 Botox Doctors", Mr Golchin featured in many publications, such as the Daily Mail, Grazia, Aesthetics, Tatler, and so on. Apart from his office in Knightsbridge, London.
In the UK dermal fillers are one of the most popular aesthetic treatments performed by cosmetic surgeons across London. Their use has grown exponentially due to their effectiveness at reducing lines and wrinkles associated with ageing, lifestyle & environmental factors. Here in Knightsbridge, Dr Kambiz Golchin performs (botulinum toxin) dermal filler injections that help to reverse the signs of ageing, smooth out wrinkles & to help restore self-confidence.