Mr Kambiz Golchin is an experienced, highly trained ENT Consultant & Facial Plastic Surgeon whose pioneering techniques have gained international acclaim from his patients, his peers, and the media.
Based in the prestigious location of Knightsbridge, London, Mr Kambiz Golchin operates from the Rita Rakus clinic on Hans Road.  Some of the key surgical treatments offered include Rhinoplasty, CO2 Laser Resurfacing & SVF Stem Cell Fat Transfer.  There is also a range of non-surgical treatments available including Anti-wrinkle injections (botox), Dermal Fillers and PRP.
Over the past 12 years, plastic surgeon specialist Mr Kambiz Golchin has been given numerous accolades including 'Best For Botox & Fillers' by TATLER UK and is KOL for Allergan and a number of other aesthetic companies. He is also considered an expert in the industry by many Doctors/Nurses throughout Ireland & the UK who call on Mr Golchin for his expertise and assistance with their own patients whose treatments need to be corrected.
M Med Sci, FRCS (Eng), FRCS(ORL-HNS)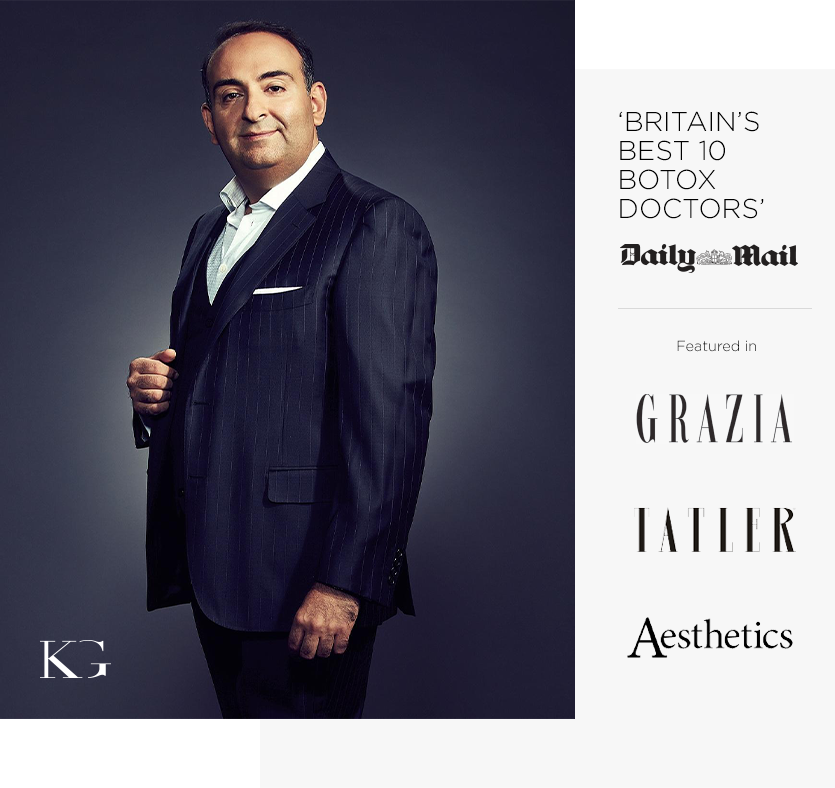 I was very nervous about getting lip fillers for years, but I got recommended to Mr Golchin and I cannot recommend him enough! He made me feel at ease about the treatment and gave me exactly what I wanted! It was painfree and my results are amazing! – Sarah
Sarah
I have been attending Mr. Golchin at his clinic in Dublin for Botox & Fillers for quite a few years, with great results. I am never concerned about trying fillers in any new areas of my face or trying any new treatments suggested, as I have complete confidence in Mr. Golchin and his team. It's very important to me to achieve a natural result while still noticing an obvious improvement and I am never disappointed. – Michelle
Michelle
I contemplated rhinoplasty for a number of years and after extensive research I finally decided to go ahead with it in August 2017. To say it was a decision not taken lightly would be an understatement. I wanted the best results and the best surgeon and I can honestly say I got both. Mr Kambiz Golchin is a true professional and perfectionist and it is clear he takes great pride in his work. Mr Golchin established exactly what I wanted and delivered, surpassing my expectations. Bex
Bex
I had decided many months ago to get rhinoplasty and had since visited a number of the top surgeons in London, after being dissatisfied a friend referred Mr Golchin. From start to finish, including my pre operative care to my end result I could not be happier and would highly recommend Mr Golchin as a wonderful surgeon who has changed my life and I could not be happier with my new nose. – cmbrowne
C Browne